Advice to Member Nursing Homes re COVID-19
Monday March 2, 2020
We remind our engagement with the Department of Health and HSE with regard to COVID-19 is daily. We will continue to provide Members with support and advice as appropriate. Members will be increasingly aware of the global spread of Coronavirus (COVID-19). The following briefing has been prepared with the most up to date advice. You will appreciate that this is a continually moving issues and members should keep up to date with all public information. The primary sites for information are the dedicated Coronavirus section on the HSE website and for healthcare professionals via the HPSC (Health Protection Surveillance Centre) website.
Please find provided within this email advice with regard to:
What is the Virus? 
A coronavirus is a type of virus. As a group, coronaviruses are common across the world. Typical symptoms of coronavirus include fever and a cough that may progress to a severe pneumonia causing shortness of breath and breathing difficulties.
Generally, coronavirus can cause more severe symptoms in people with weakened immune systems, older people, and those with long-term conditions like diabetes, cancer and chronic lung disease. This clearly includes many individuals who live in nursing homes. The older population is therefore a particular community of concern. Novel coronavirus (COVID-19) is a new strain of coronavirus. It is also called Coronavirus. Currently, there is no vaccine and no specific treatment for infection with the virus and the HSE advises that the flu vaccine does not protect against coronavirus.
Nursing Home residents, the majority of them being over 65, are an at-risk group, as are those who have a long-term medical condition – for example, heart disease, lung disease, diabetes or liver disease. As such members will be employing clinical judgement and every precaution to protect the health of residents, and indeed the health of our valued home staff.
How the virus is spread? 
It is believed that coronavirus is spread in sneeze or cough droplets.You could be at risk of contracting the virus if you:
come into close contact with someone who has the virus and is coughing or sneezing
touch surfaces that someone who has the virus has coughed or sneezed on
Because it's a new illness, it is not know how easily the virus spreads from person to person, or, if someone can spread the virus before they show symptoms.
Nursing Home Precautions 
Nursing homes are strongly urged to ensure sterilising hand gel is at the entrance door and every visitor is informed of requirement to use it prior to moving around the nursing home.
All visitors are asked to:
wash your hands properly and regularly with soap and water or an alcohol-based hand rub
– after coughing or sneezing
– after toilet use
– before eating
– before and after preparing food
– if you are in contact with a sick person, especially those with respiratory symptoms
– if your hands are dirty
– if you have handled animals or animal waste
cover your mouth and nose with a tissue or your sleeve when you cough and sneeze
dispose of used tissues into a bin and wash your hands with soap
Providers should consider providing residents, visitors and service users with information in relation to hygiene and transmission. Together with what actions your nursing home may need to take in the event of an instruction to self-isolate or any other escalation of the disease.
Nursing Home Planning 
Providers should develop their own operational resilience planning. This will relate closely to plans which should already be in case in relation to any major incident. The distinction being that there may be factors limiting the ability of staff to travel to work if there is any instruction to self-isolate.
We are liaising with the HSE with regard to specific recommendations with regard to planning for COVID-19 and emergency measures to be undertaken and expect to circulate guidance imminently.
We will continue to liaise with the HSE and will update you of further developments.
If a person becomes unwell and suspicion of COVID-19
Contacts of the unwell person: If you become unwell or have been in direct contact with an affected individual, the advice from the HSE is not go to your GP or ED. Phone them first. If you do not have a GP, phone 112 or 999.
Further resources 
Information is also available from:
Please remind all family members that they can best protect themselves from COVID-19 by regular and vigorous hand-washing and good respiratory hygiene. It is also worth noting that, as an EU member state, Ireland is following the advice of the ECDC (European Centre for Disease Prevention and Control).
NHI Resources 
NHI is available to provide assistance and support to people affected by any case that arises. You may need clinical, HR or advice with regard to communications. You can call NHI at 01 4699800 and a listing of staff support is available here.
HSE Infographic – Prevention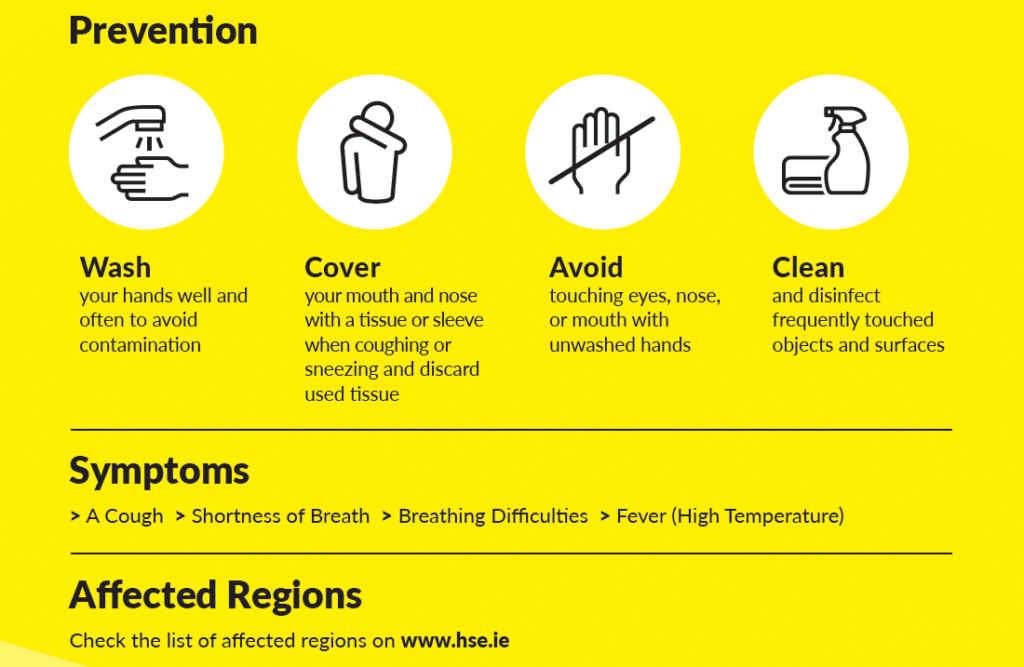 HSE Infographic – What to do if you are at risk