Margaret's 100th
Wednesday October 28, 2020
COMING TOGETHER TO CELEBRATE 100 YEARS OF LIFE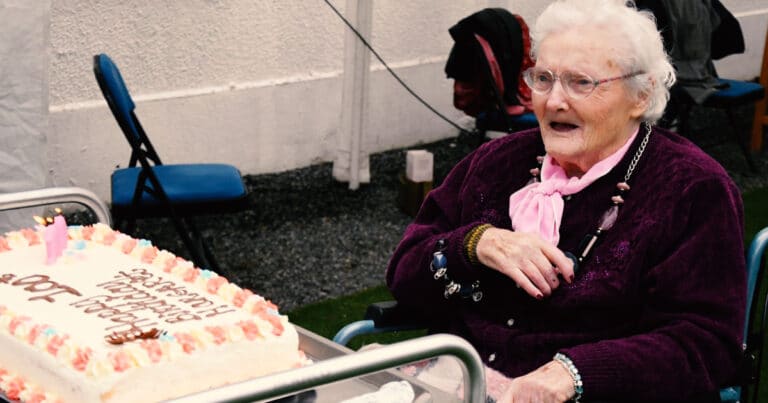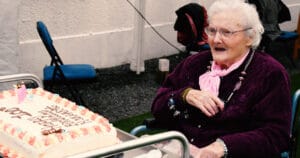 Margaret is a resident at Ferbane Care Centre, Co Offaly. Birthdays are so precious for all of us but even more so your 100th birthday celebration.
SPECIAL PLANS FOR A SPECIAL DAY 
In the lead up to the date itself and despite Covid restrictions, Sam (Activities Co-ordinator) and the wider team at Ferbane were so determined to celebrate Margaret's special day. Working carefully to stay compliant with social distancing restrictions, the team planned a small family gathering in the courtyard of the care centre. Residents put their creative skills to the test by working together to create a special birthday banner for Margaret.
On the morning itself, sunshine beamed down on the town of Ferbane. The chefs at the centre needed no excuse to create the birthday cake of the century for Margaret! Local musicians Olivia Douglas and John Molloy volunteered to join the celebration to provide music and song. The arrival of Margaret's family brought tears of joy and happiness as some of her family hadn't seen her since before visitor restrictions started. Margaret was so happy to be able to spend her day surrounded by all those who love her.
BRINGING JOY TO THE COMMUNITY
Much to the relief of everyone involved, Margaret's birthday celebrations took place just before further restrictions were announced for Offaly. Margaret's 100th birthday celebration touched not only Margaret and her family, both also the other residents, staff and the wider community of Ferbane. In fact, after the celebrations Margaret's photos took pride of place in the local Offaly Express newspaper.
Reaching 100 years old is a huge milestone in life to be celebrated with great care, love and attention. This is the story of a community both in and outside Ferbane Care Centre working together despite Covid to celebrate with Margaret.
Explore more stories here