Meet Frank
Wednesday October 28, 2020
MEET FRANK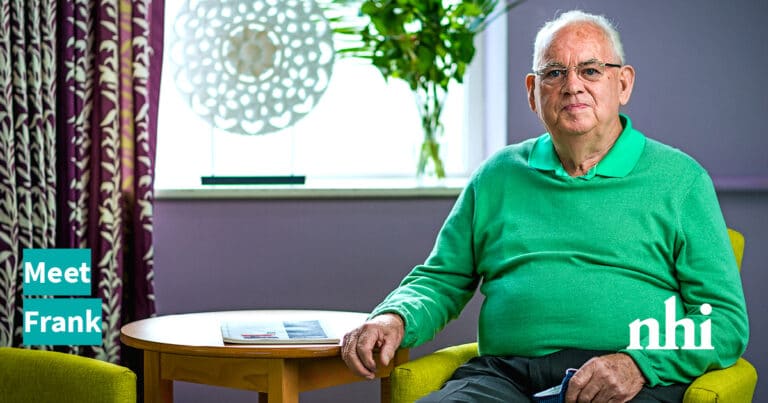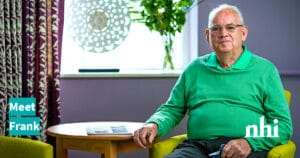 Interview with Frank and Jennifer. Frank's wife Beryl is a Nursing Home Resident at Sonas Riverview Nursing Home in Ballina. Jennifer is Frank and Beryl's daughter.
Q: HOW LONG HAS BERYL LIVED HERE?
Frank: She's been here now for 3 years. We've been married for 62 years. We had our 60th wedding anniversary in here! We renewed our vows at the same time. That was a big surprise. Rita, the Activities Co-ordinator here had organised it all. I didn't know anything about it. Rita is wonderful.
Q: HOW FO YOU FEEL ABOUT BERYL LIVING HERE?
Jennifer: It's not easy having mum in a nursing home but she's in the best place. They look after her so well. She gets all the attention going which would be very difficult at home. Here she's well looked after. And we come up all the time – they are like family.
Frank: There isn't a chance we could look after her at home. I miss her. I try to come every day to see her – through the window. Before the Covid started were in here every day with the dogs. There was always something going on. It was great. Great entertainment.
Jennifer: That's one good thing as well about her being here. It's entertainment that she wouldn't have at home. She used to play telly bingo but that would be it. Here she plays bingo, they have parties. She does a lot of things that she wouldn't do at home.
Q: DO YOU WORRY ABOUT HER HERE?
Jennifer: I'm not worried about her in here because she's well looked after. The staff are wonderful everyone one of them. She is in one of the safest places. And they look after her so well. They are very caring in here. They are very good with all the residents.
Q: DO YOU SEE IT AS WHERE SHE LIVES?
Jennifer: She lives in the nursing home. It's her home now at the moment. It's like she's living with a big huge family. They all treat everyone as family. And when you come in you get such a welcome. Everyone is so happy to see you. And they can't do enough for you. This is a great atmosphere in this nursing homes. So we don't worry about her being in here.
Q: TELL ME ABOUT THE BIRTHDAY PARADE?
Jennifer: At that moment it represented bringing back life into the nursing home. Bringing back life to all the residents. Bringing back a bit of enjoyment. Even if it was just a few hours. It made those months – disappear into the background just for that one day. It brought so much excitement to the people. You could see in their faces – they were so happy to see their families – all with this excitement going on. It just made them happy. And they needed it after being closed up for so long. They really did.
Q: HOW ARE YOU THINKING ABOUT THE FUTURE?
Jennifer: We don't worry about mum anyhow – we know she's looked after here and she's safe because they take so many precautions. We would rather stay outside the window every single day to keep her safe. At least we see her. And as long as there's the virus is around – if that's what we've gotta do – we'll do it. It's part of life at the moment until we can come back in.
Frank: I do worry in case anything happens. I'm a worrier anyhow at all times. I worry about everything!
Q: WHAT ADVICE WOULD YOU HAVE FOR ANYONE WORRIED ABOUT USING A NURSING HOME RIGHT NOW?
Frank: I would have no hesitation coming in this nursing home – none whatsoever. If I was not able to look after myself I would definitely be in here because it's home from home.
Jennifer: I think the best advice is really don't worry. They are taking great care of all the family here. They are taking great care of all the residents. They are so safe. Everything they put in place is to take care of the residents and to keep them safe and that's what counts. I wouldn't worry. Don't hesitate about nursing homes.
Explore more stories here