Meet Ina
Wednesday October 28, 2020
INTERVIEW WITH INA, NURSING HOME MANAGER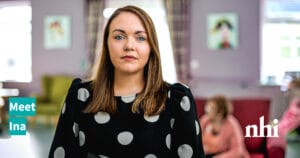 Q: HOW LONG HAVE YOU BEEN WORKING HERE?
I have worked in Sonas Riverview for 3 years, but in total I've worked with Sonas for over 10 years. I love my job.
Q: WHAT DO YOU LOVE ABOUT YOUR JOB?
I love my job because I love making a difference in people's lives. I love working with older people. It gives me great satisfaction. And it's a fun place to work. It's lively. I love the people I work with. I love the older people; the stories they have, their personalities, everyone is so different. It's just so enjoyable.
Q: TELL ME ABOUT COVID?
Covid has been challenging for sure. Before Covid, this home was somewhere you'd walk in – it was an open door policy – we love meeting families. It was a great hive of activity. When Covid hit there was this fear of the unknown – people were watching the news – they were seeing what was happening in Italy. And it just seemed to consume people's lives. The staff were fearful. The residents were really resilient – they are far stronger than us. They don't have the same fears that we have.
Q: WHAT WERE YOU WORRIED ABOUT?
I was worried for the safety and welfare of residents; not just from a Covid perspective – when we closed, how would people react? Especially residents with dementia who were used to their families coming in all the time. The families relied on us to bridge that gap for them. I was worried about getting Covid here. I was worried about residents being able to still live a fulfilling life. We employed more staff so that residents could interact and take part in the social activity programme.
Q: HOW ARE YOUR CARE TEAM? 
So definitely at the beginning stages the changes with Covid were challenging for everybody because it was a whole new way of doing things. The staff have been absolutely exceptional. Everyone has rallied together. We work so well here as a team in Riverview.
Q: WERE YOU WORRIED YOU'D GET COVID? 
Yes. For me personally though, I felt ok. But for some of the staff – they were going home every night thinking about covid. A lot of people came to me who I didn't realise had a vulnerable person at home. These people still came to work. That was really tough for some of the staff – that fear that they would bring it home.
Q: WHAT DO BIRTHDAYS MEAN HERE?
Oh birthdays are such a big celebration here. All the staff get involved, all the families become involved. It's a big thing here in this home. When covid hit that changed. We were struggling to find what we were going to do. It was complete lockdown. Residents hadn't seen there families for about 2 months. At that stage, window visits weren't even being really facilitated. When Rita came to me with the idea, I said this is fantastic. It was such a lift for everyone. And everyone was so excited about it.
Q: WHY WAS THE PARADE SO EMOTIONAL?
It was so emotional because everything had been closed down and we were completely isolated. We were completely cocooning at that stage – it was in the height of lockdown. It was like ghost town. It's hard to describe what it was like. It was almost like this new life was coming out when the birthday parade was driving around the house. It just felt like this new beginning. It felt like that there was hope when the birthday parade was driving around – it was just so emotional.
It was just so uplifting. People hadn't seen their families for months. And now all of a sudden they were getting to see their families, they got to see their grandchildren – it was just so exciting and so lovely to see people embracing people from afar – it was lovely to see that for the residents and that's what made it so emotional. You'd see people that hadn't seen their parents in so long and watching that experience between two people was lovely.
I remember walking into the staffroom afterwards, everyone was on a high because it was so exciting. We felt like we had done something fantastic – something no one else had done. The residents loved it and that's what's important.
It just gave us hope that there was going to be something else other than this virus – for the future. There was going to be an end in sight. That we were able to facilitate this. Before that we struggling to see how we would be able to facilitate visits.
Q: IS COMMUNITY IMPORTANT HERE?
Riverview is definitely in the centre of the community. As a home we feel like we're like a community in itself. We want to make it feel like a family and make it feel like a home and that's what we've always strived for. It was difficult – we're used to talking to families on group activities. Now it's all outside, people are outside the windows now and we're talking to people through windows. And that's difficult. The visiting guidelines are less restrictive now which is better but we're hoping there will be more flexibility as time goes on, and as we learn to live with the virus.
Q: HOW ARE YOU THINKING ABOUT THE FUTURE NOW? 
There is fear there but not to the same level we had before – we know we're doing everything we can to keep people safe. That's the one thing I would say – we're much more confident. We've got all that we need to keep the residents safe. I think we're trying to be positive for the future. I think that's all we can be. We've come full circle. It's now time to start being innovative in how we live with this virus.
Explore more stories here