Nursing Homes Week 2023
Monday July 24, 2023

About Nursing Homes Week
Nursing Homes Week is Ireland's national celebration of nursing home care. Celebrating its tenth anniversary in 2023, Nursing Homes Week brings residents and staff from nursing homes across Ireland together to celebrate the role of nursing home care in Irish society.
An array of celebrations and special events are hosted within nursing homes, with nursing homes taking the opportunity to recognise the remarkable people in their homes who are residents and staff. Residents families, friends and dignitaries from local communities take opportunity to participate in the celebrations, recognising the role of nursing home care within their lives and communities.
Celebrations traditionally include themed parties, live music, barbecues, afternoon tea, cocktail parties, pampering, quizzes, special outings, farm visits, talent contests, theatre and group performances, historical talks.
What is lined up for Nursing Homes Week 2023
Music is the theme for the 2023 celebrations. It fulfils an pivotal role in meeting the health and social care needs of residents in nursing home care, bringing special memories, discussion, comfort, joy, togetherness, camaraderie and happiness.
Nursing homes across Ireland will be hosting music-themed and other celebratory events to mark Nursing Homes Week 2023.
This year a very special online festival will be taking place, titled Music Speaks. Nursing home residents, their family and friends, staff and visitors will participate in the music-themed festival.
The Music Speaks line-up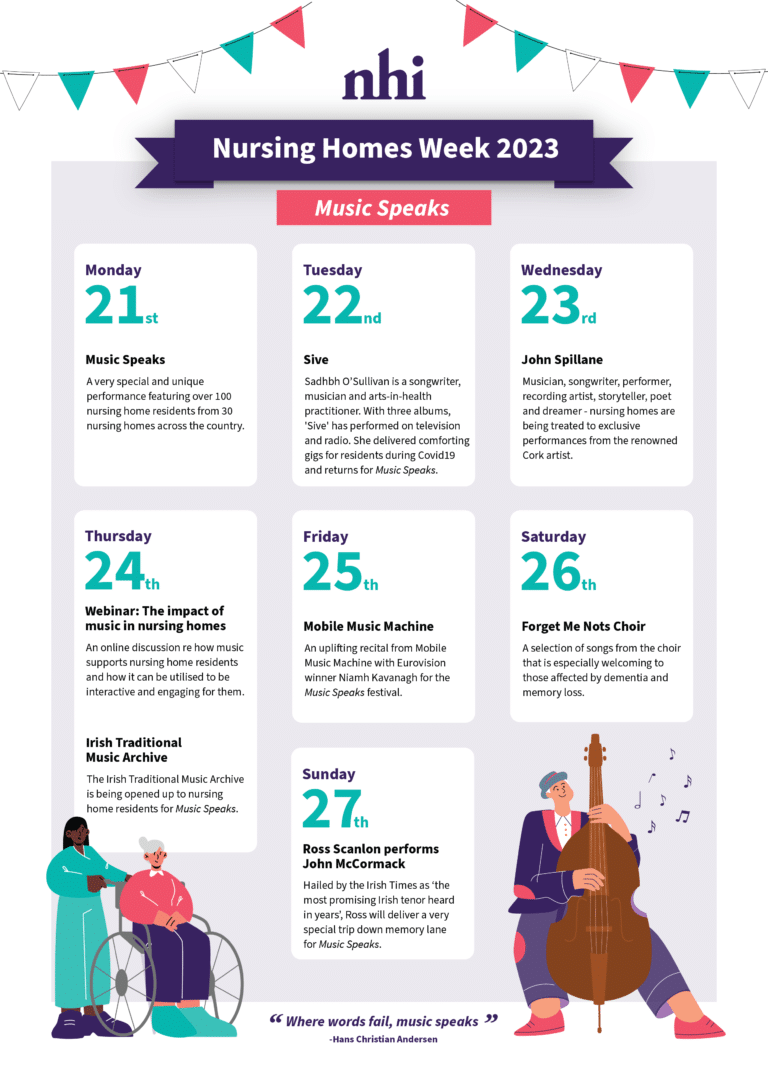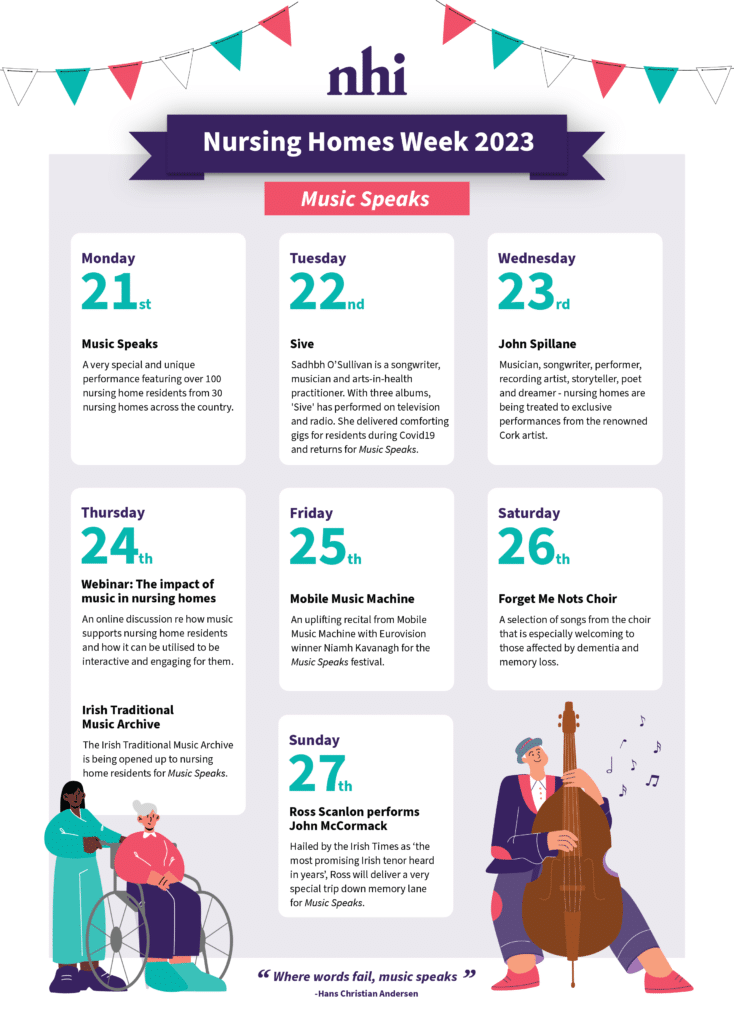 Taking place across the Week, it will include:
Music Speaks Over 100 residents and staff from nursing homes will be performing for Music Speaks. The setlist includes Danny Boy, Molly Malone, When Irish Eyes Are Smiling, Can't Help Falling in Love, You Are My Sunshine, Que Sera, Sera. It features the very famous 100-year-old Irish traditional musician Peig Ryan, along with residents from nursing homes in their eighties and nineties.
Mobile Music Machine: Mobile Music Machine have been touring the country bringing live music into the lives of nursing home residents. Eurovision winner Niamh Kavanagh will perform with them for a very special Nursing Homes Week Music Speaks
Sadhbh O'Sullivan: Sadhbh is a songwriter, musician and arts-in-health practitioner. As a solo artist she has released three albums (under the name Sive), toured extensively and performed on numerous television and radio shows including Other Voices. Sadhbh delivered a series of very special performances for nursing home residents during Covid19. Now she is returning to entertain for Music Speaks.
Irish Traditional Music Archive: Performances from the very special Irish Traditional Music Archive, which encompasses an extensive traditional music, song and dance collection, will be opened up to nursing home residents during Music Speaks.
The impact of Music in Nursing Homes: A roundtable webinar discussion with musicians and music therapists regarding the powerful impact music has within nursing homes.
Ross Scanlon performs John McCormack: Hailed by the Irish Times as 'the most promising Irish tenor heard in years', Ross will deliver a very special trip down memory lane. Count John McCormack was one of the supreme vocal artists of his time. His unique tone and clear diction marked him as a singer with impeccable technique which led to him becoming one of the musical superstars of the early recording era. Nursing home residents will be treated to a unique performance that will stir special memories.
John Spillane: Musician, songwriter, performer, recording artist, storyteller, poet and dreamer. Nursing home residents will be treated to two very special performances from John Spillane.
Forget-Me-Nots: The Forget-Me-Nots is a community choir for older people, family, friends and neighbours that is especially welcoming to those affected by dementia and memory loss. A selection of performances will entertain nursing home residents and staff during Music Speaks.
How can I tune into Music Speaks?
The performances will be shared within 400+ nursing homes for broadcast on a day-to-day basis during the Festival. Tune into our YouTube channel to watch and enjoy the performances.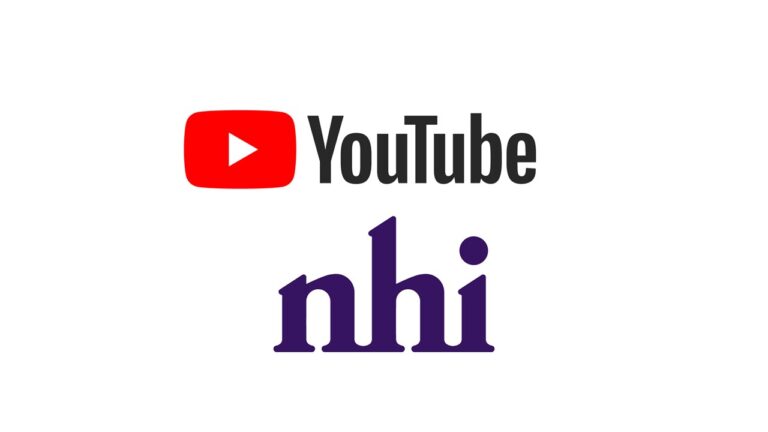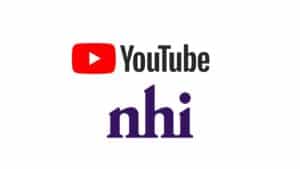 Where is my local NHI Member Nursing Home?
Nursing homes Ireland provides a comprehensive place-listing of NHI members via NHI.ie. Visit the 'Find a Nursing Home' option.
Resources for participating nursing homes
A4 Nursing Homes Week Music Speaks Festival line-up poster – A4
A4 Nursing Homes Week computer editable promo poster – download
A4 Nursing Homes Week promo poster – download
A3 Nursing Homes Week computer editable promo poster – download
A3 Nursing Homes Week promo poster – download