Sean's loss
Wednesday October 28, 2020
CARING FOR SEÁN ON THE HEART-BREAKING PASSING OF HIS WIFE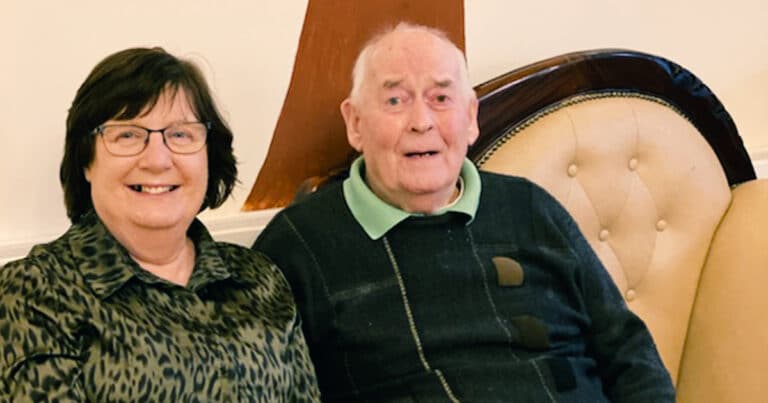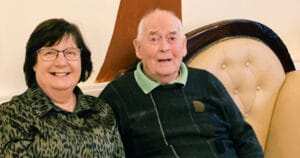 Image: Mary Leahy, Director of Nursing together with Sean Donovan
This poignant story is about Sean Donovan. Sean is a resident in Killeline Care Centre in Newcastlewest, County Limerick. Covid was not kind to Sean. During the pandemic he lost his beloved wife to cancer. For Sean, Covid meant that during his wife's final days in Milford Hospice, he was unable to spend precious moments by her bedside.
A BROKEN HEART 
When Sean's wife passed away, he was unable to attend her funeral. Taken by the situation, the care team at Killeline working with his family and the local Funeral Undertaker came together to arrange for the funeral cortege to drive into the driveway of Killeline Care Centre. This meant that Sean could pay his respects to his beautiful wife as she went on her final journey.
In the weeks after the burial, Marie Leahy Director of Nursing was worried about Sean. He was very lonely and sad. Marie spoke with Sean's daughter Ann. Marie explained to Ann that she would like to take Sean to visit his wife's burial place. For Sean this meant everything to him.
A SPECIAL VISIT 
The day came and Marie and Sean set off to Ballyhahill Graveyard arm-in-arm with beautiful red roses to place on his wife's grave. Sean's spirits rose when he finally set sight on his wife's resting place. He proudly placed his roses on her grave. Sean took special time to talk and pray to his wife, only then when he was ready; Marie and Sean set out on their journey home.
In the most difficult of circumstances during and after Sean's loss – Sean's family, the care team at Killeline and the community came together to care together for Sean.
Explore more stories here