Unmissable Melodies: Music & Health Ireland Celebrates Nursing Homes Week with Tea Chats and Tunes Session
Wednesday August 9, 2023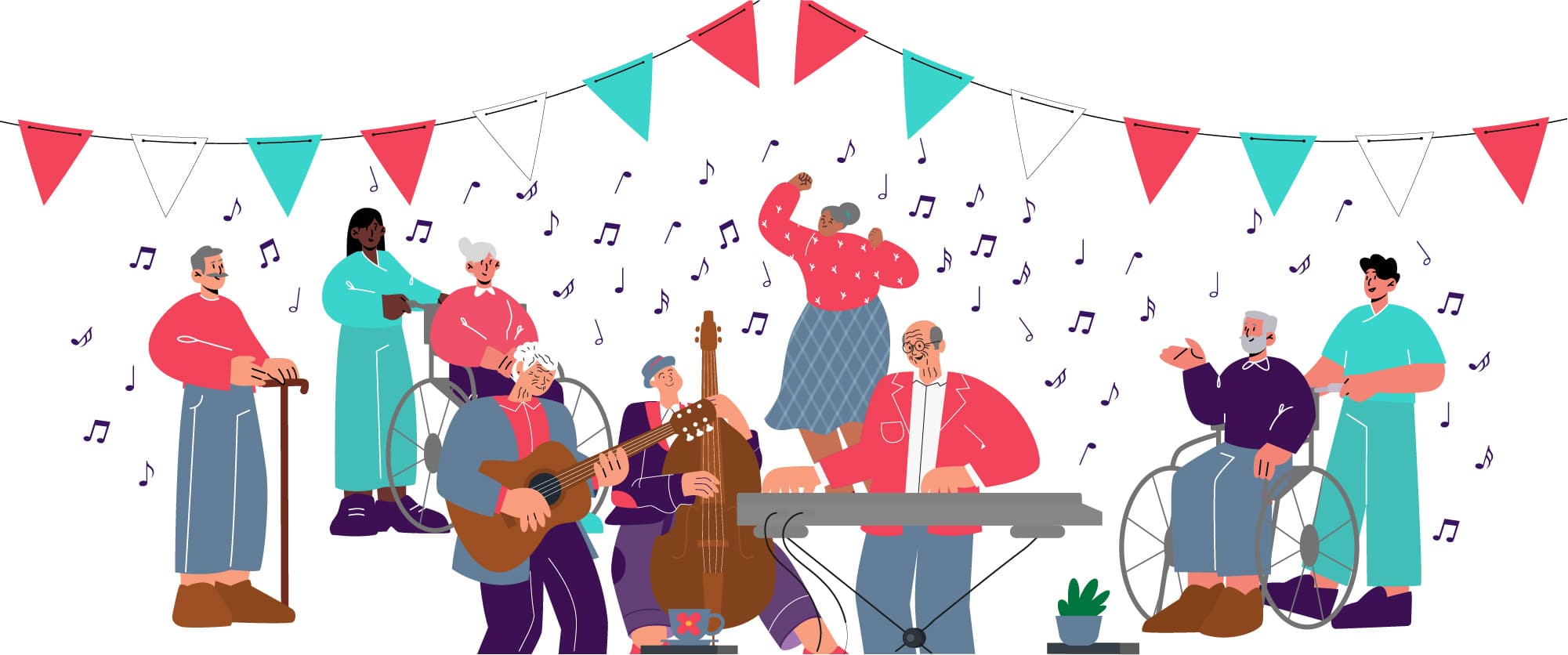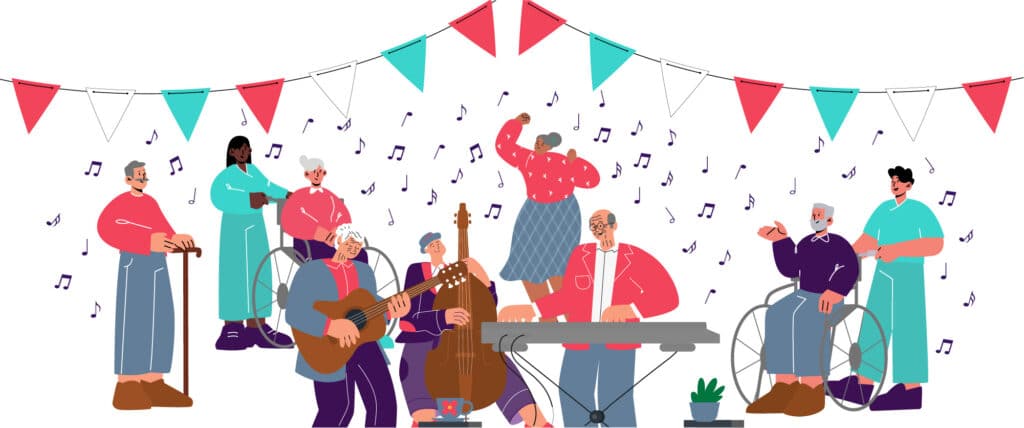 Unmissable Melodies
Music & Health Ireland Celebrates Nursing Homes Week with Tea Chats and Tunes Session
We're delighted to announce a very special competition to take place in conjunction with Music & Health Ireland.
For six lucky nursing homes, Music & Health Ireland is offering the fantastic opportunity to participate in its Tea Chats and Tunes session. Tea Chats and Tunes embraces technology and virtual communication and six nursing homes will participate in an online music session for nursing home residents the afternoon of Thursday 24th August. This will be a celebration of care, connection and ceol – an afternoon of unforgettable melodies!
To enter, simply send us your nursing home name, relevant contact person and contact details to [email protected]. Closing date for entries is 12 noon Tuesday 15th August. Six nursing homes will be drawn randomly from the entrants.
Tea Chats and Tunes unique approach offers a shared cultural experience, supporting residents with various health conditions, such as dementia, mild cognitive impairment, and sensory loss.
Conditions for participation
Ensure you have an internet-connected device – a computer, smart TV, iPad to bring residents together for participation through camera. A Zoom virtual invite will be sent to the successful winners to facilitate participation. This is an interactive experience; therefore it is vital residents can be engaged through camera.
A designated staff member is asked to act as a liaison between the residents and the musicians – sharing requests or thoughts via the chat function on Zoom, ensuring a seamless flow of communication.
Background to the Tea Chats & Tunes Programme
The Tea Chats & Tunes Programme is an initiative that traces its roots back to a "Music in Healthcare" training programme partnership with Meath County Council Arts Office in 2013. Originally focused on bringing the power of personalised live music to healthcare settings, the programme's evolution was accelerated by the challenges presented by the pandemic in 2020. Recognizing the profound impact of music on well-being and the need to find innovative ways to connect vulnerable individuals in nursing homes with their families during a time of isolation, Music & Health Ireland adapted to move online and expanded its efforts. The Tea Chats & Tunes Programme emerged as a dynamic response to this new reality, providing a platform for residents, families, and healthcare staff to engage in meaningful interactions through music.
Music & Health Ireland
Music & Health Ireland is a not-for-profit organisation that provides high-quality music-making opportunities in healthcare, community and educational settings. The organisation brings live music interactions into healthcare settings led by professional musicians with specialised training for Healthcare Settings. Their approach to this dynamic field of arts practice is consciously grounded in
cultural interaction rather than clinical goals. Music & Health Irelands' vision is for an Ireland where everyone's life is enriched by high-quality live music, delivered with their needs in mind, whatever their situation.
Music & Health Ireland team of musicians are trained in best-practice musical and pedagogical techniques specifically developed for quality outcomes in healthcare. The methodology and approach used is consciously grounded in cultural interactions rather than clinical goals.
Music & Health Ireland manages and delivers the largest programme of training and CPD opportunities for early-career musicians, and professional musicians interested in working in Healthcare and Community Settings across Ireland. The organisation carries out projects with professional musicians specifically trained to work in healthcare settings. This work is based on interaction and communication in a person-centred approach and includes families and care staff. Between the delivery of many diverse projects and professional training with European leaders Musique et Santé, Music & Health Ireland brings a wide range of experience and skills to all engagements.